I've been thinking about starting a personal blog for a while now – but it's only as we approach the end of 2021 that I've actually got around to making it happen. That old friend procrastination, eh?
So, here I am, sitting in Starbucks (I usually have a slight preference for Costa, in case you were wondering) and putting virtual pen to virtual paper.
It's a bit of a weird one this because I've written probably hundreds, if not thousands, of blog posts for clients over the years, but somehow I have never really got into blogging for myself on a regular basis – aside from a few posts here and there for my freelance copywriting business, and a couple of niche projects a number of years ago.
Actually, I DID have a personal blog at one point in the past – but I'd rather embarrassingly end up writing a few articles in a rush of inspiration and then go months or even years without posting anything new.
This is someone who writes for a living. Pretty funny, right?
So, kindly give me a kick up the proverbial ass if I do that with this blog and leave it to gather digital dust on a (long forgotten) shelf somewhere on the interweb.
I mentioned procrastination at the beginning of this post as a big reason for not starting a personal blog sooner – but the truth is there's actually quite a bit more to it than that, not least that unshakeable voice in your head that says "I don't know anything" and – the worst one – "why would anyone want to listen to me? Who are you to start a blog?"
That other old friend (enemy), imposter syndrome.
But something suddenly changed for me the other week when I stumbled upon this video by YouTuber Ali Abdaal.
It sounds like a cliché – but it was two in the morning and one of those real lightbulb moments… A frame in time when the dots suddenly seem to connect and everything makes sense.
I highly recommend you watch the whole video, but in summary it's all about the power of starting a blog, documenting your journey, sharing your experiences, and generally opening yourself up to the world for the benefit of all.
(Forgive the slightly clickbait title because this is powerful stuff. It really is).
Even though I've long known about the benefits of blogging and followed countless other people over the years on their blogging journey, something happened to me as I watched on and I felt my mind begin to race with thoughts… a panting puppy with his tail wagging and running around the garden in excitement.
If you watch the video, you'll see Ali talks about the book 'Show Your Work' by Austin Kleon – a New York Times Bestseller and one of the shortest books I've ever read… but also one of the best.
I immediately downloaded it to my Kindle (and another by the same author called 'Steal Like an Artist'), reading page after page when I really should've been asleep and finding myself nodding along in agreement to almost every line.
Sometimes we all need to be reminded of the stuff we already know but somehow never acted upon – and this was definitely one of those. The final line to connect the dots, if you will.
So, I decided there and then that I was going to start a personal blog – and, lo and behold, here it is.
What will I blog about?
Good question – and the honest answer is I don't have a specific focus right now, which is actually one of the main points talked about in the book.
The idea is to keep exploring the stuff you are interested in, documenting your experiences and generally sharing your knowledge and insights with the world.
One of the most enlightening things for me was that you don't have to know what you are going to be talking about. You don't have to narrow it down to a specific area, or have a load of content planned out in advance.
The magic is in sharing your journey and seeing what happens over time.

This realisation was a major breakthrough for me because previously I thought you had to niche down and have a specific audience in mind right from the start. Of course, it was this thinking that stopped me from taking action.
If you had to pin me down, expect ramblings covering everything from productivity, mindset and mental health to marketing, copywriting, tech, travel and more.
A pretty diverse range of topics, but if even just one person gets any benefit from all this then that's fine by me!
As my online friend Natalie Sisson says:
"If you're not already sharing your knowledge, gifts and talents with people who need them, I believe you have a responsibility to do so."
and I think that's so true.
It is my hope that doing this will benefit my own learning – and hopefully help other people along the way.
We all know more than we think we do.
So, I've made my final edits to this post and it's almost time to hit the 'publish' button and unleash my blog on the world.
Hello to the one person who might be reading this!
As I do so, it seems quite appropriate to be sitting in the British Library in London, surrounded by books from the ages and countless other humans beavering away on their laptops working on interesting things.
I love writing in places like this – but that's a post for another day.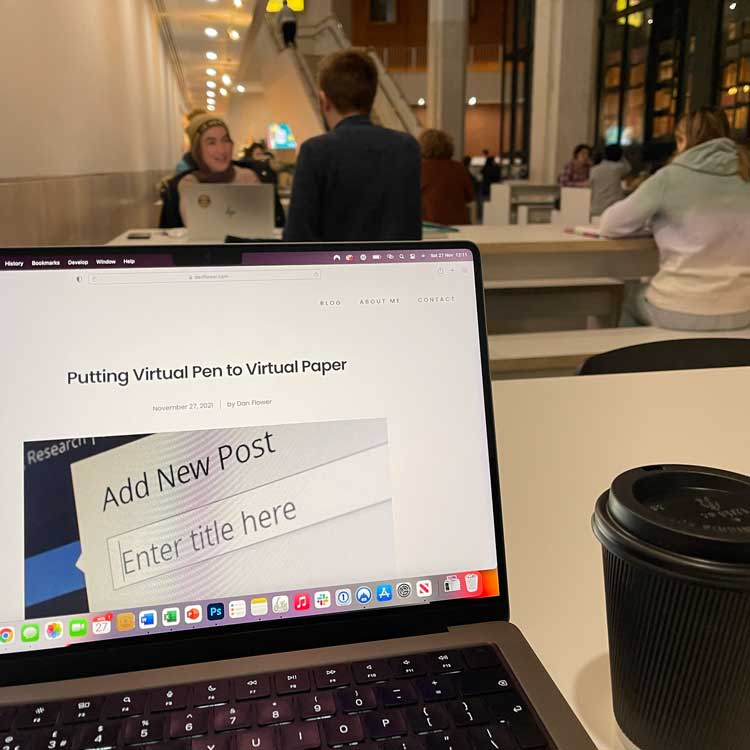 Until next time,
Dan